I made it. This blog really is now Charlie in China. I'm writing from my ridiculous hotel room which really is not far off from their brochure photo (they even supply the petals).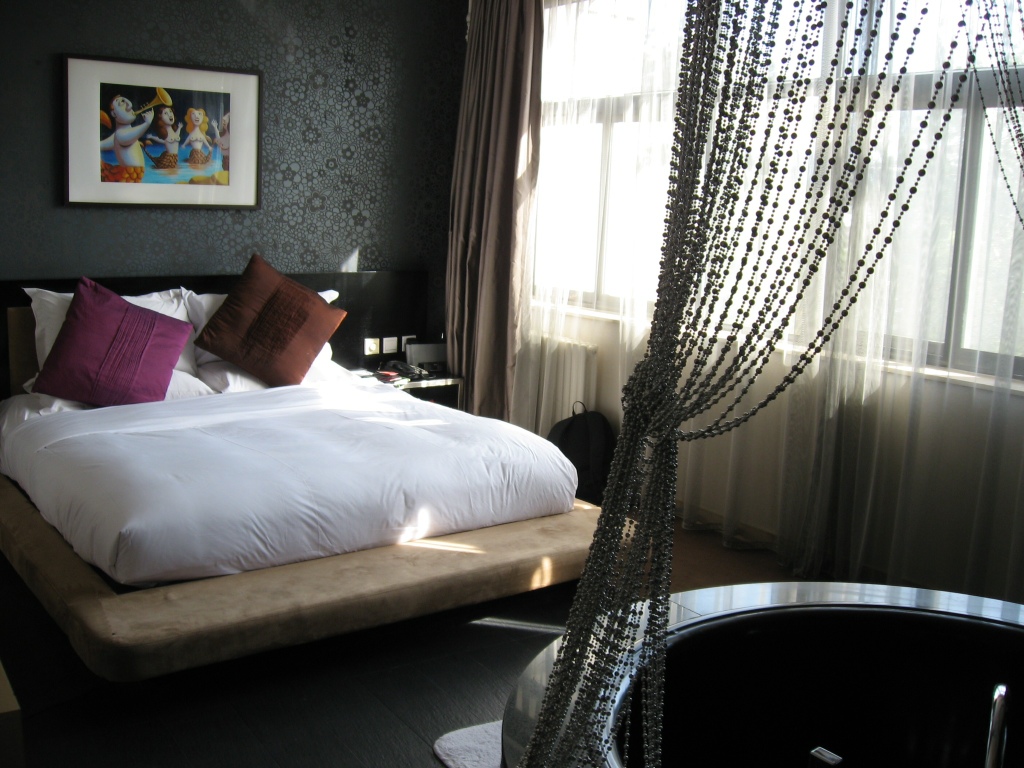 The flight out was long, but very comfortable. I have to say Cathay Pacific are a truly impressive airline. Upon boarding, realising the plane had an upstairs and personal screens for everyone in economy made me grin ear to ear. Then I sat down, given a rug, a cushion and plenty of leg room. Seriously this is amazing and got better when I realised that 2 meals and drinks were complimentary. I mean this may well be the norm, but I was seriously impressed.
Whilst this has nothing to do with China, it is my first long flight and first night flight and having bagged myself a window seat I am indulging myself a little by writing about the views.
Flying over the Ural mountains in the pitch dark. There is nothing quite like spending 20 minutes gazing out over the wing of the plane at a clear sky and nothing but the stars. Incredible clarity.
I loved being able to see the fantastic expanses of glowing civilisation bustling below us morph into winding clusters of light until it dispersed back into sheer darkness at 35,000ft over the Sayan Mountains. And then later as the sun rose across the Chinese plateaus was breathtaking.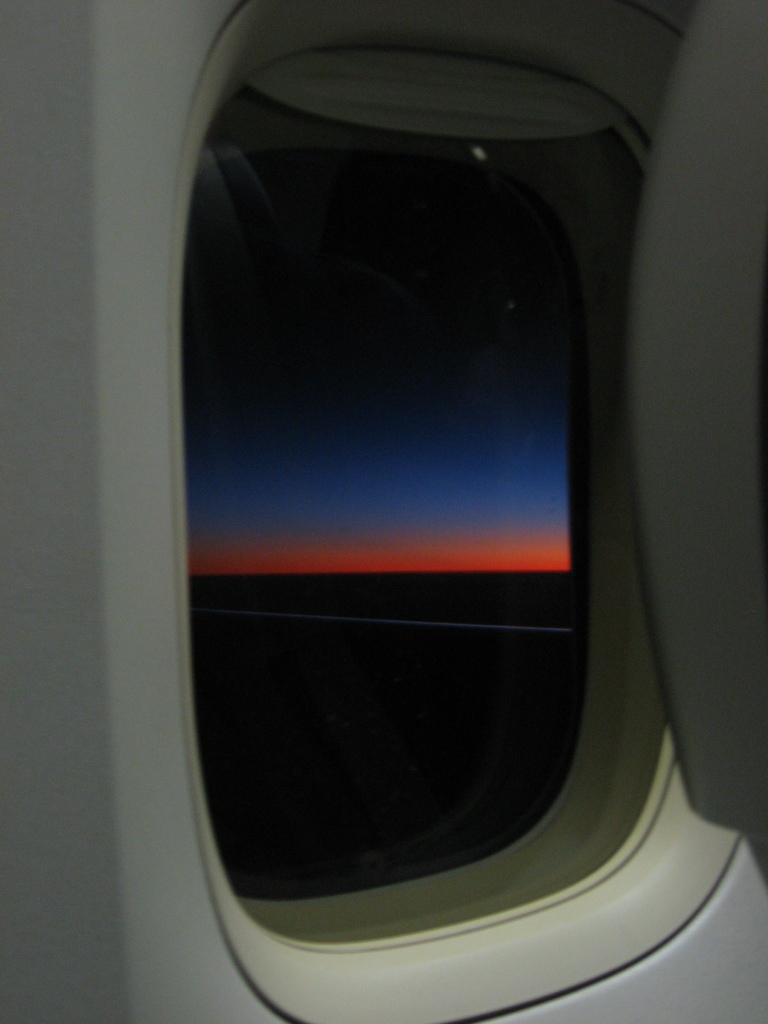 There was plenty of choice of inflight entertainment: films, TV series, game and an inflight map to judge exactly where you are (hence being able to tell you where we were from glimpses of night time aerial shots). Love it.
I wasn't that sleepy so took advantage of the free films, why not? Avengers was available although I plumped for the rather average The Amazing Spiderman the fantastic Brave and the recent Tintin movie.
At Hong Kong Airport we had a tight transfer but Cathay Pacific had arranged someone to take us to the right check in desk (via their very cool train from the plane itself to the terminal) thanks Sally, thanks Cathay Pacific.
It was a shame that coming into and out of Hong Kong was so misty this morning as I'd have loved to have seen the metropolis from the air.
I think we flew over the thousand island lakes I discussed in this blog post [link] I'm not entirely sure, but if not there was certainly another lake with very similar geographical effects. There were also some pretty mean meanders in the rivers and it wouldn't surprise me if there were a couple of oxbow lakes knocking about too.
Flying over China in the day makes clear quite how brutal Chinese infrastructure is becoming. Straight lines, presumably rail and motorways, uncompromisingly cut through the surrounding countryside without care for the rivers they cross, or fields they split. Just simply making the country more accessible. The scale of which is unfathomable. Straight, unwaivering lines stretch further than the eye can see even at 30,000 feet.
Landing in Beijing was wonderful, although I as a bit gutted my phone battery had already died so couldn't take many photos. We found our way through security, grabbed our bags and made our way to the most efficient taxi rank I've ever seen. Stacking 10 taxis on 5 bays and then letting everyone get in. A queue of about 50 people sorted in less than 2 minutes.
We ended up with a somewhat grumpy taxi driver who could speak no English and I'm not sure he appreciated my questions or drawing of characters. But he did deliver us to the door or our hotel for around 70 Yuan, that's about £7.
We arrived at the hotel which is on the fourth floor of a stadium. It has a bath at the end of the bed, and a gorgeous shower too. We slept off some of the journey as was anticipated.
I'll try to start getting some awesome photos tomorrow. For now.
晚安 Wǎn'ān
C